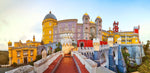 Formerly known as Estremadura, the coastal wine region of Lisboa and its small subappellations are reflective of the vinous diversity found throughout Portugal. Today, it stands at the intersection of heritage preservation and welcomed change. The area is named for Lisbon, the closest key city and export hub. Until recently, it was one of Europe's last great undiscovered regions, but its photo-worthy facades, sea-wide vistas, sprawling vineyards and the iconic Belém Tower are now portrayed prominently on social media channels. And let's not overlook all of the delicious local wines to be enjoyed. —Lauren Mowery
Lisboa's position along the Atlantic provides myriad soils, microclimates and topographies that justify nine Denominaçôes de Origem Controlada (DOCs). Near the salty, windswept coast, the vineyards of Colares sprawl from phylloxera-resistant sand like long-legged spiders. The appellation's unique grapes include Ramisco for savory reds and Malvasia de Colares for saline whites. The Serra de Montejunto hills, running north from Lisbon, divide the area. The wet, chilly Óbidos region excels at sparkling wines, while drier Alenquer yields robust, full-bodied reds from Portuguese classics like Touriga Nacional and Tinta Roriz.
Base yourself in Lisbon and take day trips to vineyards. Beautiful Sintra, about 40 minutes west from Lisbon, is located within a national park and rife with sand dunes, vineyards and tree-covered hills. Visit Adega Regional de Colares, Adega Viúva Gomes and Casal Sta. Maria in Colares, a DOC within the Sintra municipality. Plot a route north to Bucelas for a deep dive into the Arinto grape. As one of Portugal's oldest export regions, references to Bucelas's fermented assets date centuries. Soak up history inside the salmon-hued manor house of Quinta da Romeira. Further north, in Aldeia Galega da Merceana, is Quinta de Chocapalha and Casa Santos Lima. Chocapalha produces excellent traditional red and white wines, while Casa Santos Lima offers a modern take on regional wines and wine tourism, including a vineyard buggy tour. From there, about 20 minutes east is Alenquer, where you can taste promising reds at Quinta do Pinto and Quinta do Monte d'Oiro, whose bottles have earned coveted spots in the presidential cellar.
Crammed with markets, cafés and Michelin stars, Lisbon welcomes food lovers. Sample from chef-driven market stalls at Mercado da Ribeira. Nearby, LxFactory is a trendy hangout with art, music and food. Savor pastoral cheeses like silky Évora at Queijaria Cheese Shop, or nab tinned fish from Conserveira de Lisboa in the Baixa district. Venture to Bairro Alto to find industry favorite wine bar Garrafeira Alfaia. For seafood, don't pass up classic fare at Cervejaria Ramiro or the modern Sea Me. Shoot for the stars at Belcanto, Loco, Eleven and Alma.
On the waterfront, stay at design-forward Altis Bélem Hotel & Spa. Bonus: It's walking distance to cult custard bakery Pastéis de Belém. The 18-room Verride Palácio de Santa Catarina melds Old World charm with New World amenities. The Four Seasons Hotel Ritz Lisbon boasts a private collection of Portuguese art. Fantasize that you're of noble blood in a suite at Pálacio Belmonte. Sip rooftop sundowners and relax in the Anantara Spa at Tivoli Avenida Liberdade Lisboa. For an eco-stay amongst pine-backed dunes, Areias do Seixo, a bit further north, is your spot.
Portuguese summers get very hot. Shoot for May and June, or September and October.
Colorful Pena Palace in seaside Sintra is a must. The rich and fabulous frequent this stylish seaside resort town, also known as a surfing destination. For more wave riding, Carcavelos beach is less than an hour from Lisbon city center and further north is Ericeira, one of the top spots for the sport. Check out Carcavelos Surf School or Surf Lisbon for lessons.
Follow Lisboetas to the nearest tasca, which are inexpensive restaurants that locals patronize typically for lunch. These neighborhood standbys transcend income and social class, as they offer affordable classics like bacalhau (cod) and meat stew.